No Macor® distributor in your country?
We offer a worldwide service, please use contact web form or e-mail us for details.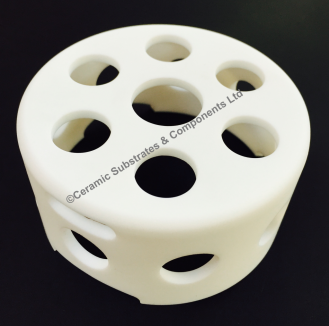 Corning Macor Machinable Glass Ceramic.
Machinable with ordinary metalworking tools

Macor allows fast turnaround, no post firing required

Holds tight tolerances, up to 0.0005in. (0.013mm)

Withstands high temperature, up to 1000°C (no load)

Macor is clean, no out gasing and zero porosity.

Rapid prototype service - Components finished to your specifications.

Research and Development undertaken for your special projects.
When you need the performance of a technical ceramic- (high service temperature, electrical resistivity, zero porosity) – and your application demands the ready fabrication of a complicated shape look at Macor. It will lower costs and substantially reduce the time between design and actual use.
Macor Machinable Glass Ceramic was developed and manufactured by Corning Incorporated for use in the NASA space shuttle space program. After an extensive testing program by NASA and UCLA it became clear that Macor was more suitable than Silica Glass, Boron Nitride (BN) and Silicon Nitride in certain components and applications.
Over 200 parts of Macor MGC could and can be found on the now retired Space Shuttle Orbiter. Macor is still being used in the Aerospace Industry and in several ongoing space programs around the world today.
Ceramic Substrates was formed in 1968 to satisfy the growing market for technical, precision and industrial ceramics.
Our aim is to provide exceptional service and products achieving outstanding quality for our customers.

A family run business with commitment to customer service and technical support

Long-term relationships throughout the ceramic industry since 1968

Deliver innovative solutions to meet all our customers needs offering over 40 years of expertise.

UK production plant using various production methods, with highly skilled and experienced Engineers, CNC Programmers and Tool Makers.

We offer global fast turnaround and competitive pricing.
Here at Ceramic Substrates & Components Limited with generations of experience in the precision ceramic industry, we have developed some unique techniques which enables us to machine fine and intricate components, complementing the more industrial and commercial sized components.
We pride ourselves not only on our high quality but also our impressive long standing customer base. Many Government organisations along with Scientific and Research Institutes and Universities worldwide use our facilities.
Ceramic Substrates & Components Limited has been an official "Corning" Macor Machinable Glass Ceramic distributor and supplier for over ten years. We have a wealth of expertise and capabilities with machining Macor, along with the knowledge of the material's suitability for your application.
As an official UK Macor® distributor we always have Macor in stock and all relevant paperwork/certificate of conformities for traceability and compliance are readily available.
Corning Macor Information Sheets are available for download in several languages in our download section.
We have added a quick Machining Guidance fact sheet from Corning in PDF format.
At Ceramic Substrates we are making the process of ordering Macor® Machinable Glass Ceramic as straightforward as possible for all our customers. We cater for a wide range of industries, for example; Defence, Aerospace, Transport, Utilities, Environmental and Precision Engineering, from rapid prototyping to small, medium and larger quantities.
Our new and latest CNC lathe includes certain software upgrades including CAD drawing download (.dxf) capability and we upgraded the software capability on our VMC machine at the same time.
We can machine custom made Macor parts and components and offer a one-stop shop solution from drawings to finished components as well as rods,bars and plates.
CSC recently added a new Mitutoyo Crysta-Plus M443 Measuring Machine to improve Quality Control of our products.
A typical Maxi-slab of Macor Glass Ceramic, or MGC as it is sometimes called,
has approximate dimensions of 355x330mm by 57mm max thickness.
Applications,components,rods,bars,plates or blanks have to be inside these dimensions to allow for machining and other variables.
No job is too small we can supply one off components and prototyping.
Our Macor studies page is updated with new information regarding Macor® Glass Ceramic on a regular basis have a look here.
We are ISO 9001:2008 certified, our certificate can be viewed here.
If you have any questions relating to MACOR® machinable glass ceramic, please do not hesitate to contact us using the contact web form, e-mail or call us direct.
Call us:+44 (0)1983 528697 Fax:+44 (0)1983 822252
Call us on Skype: CeramicSubstrates
Rapid Prototype Service available call us for information